Flying To Potrero Chico
Last updated:Última actualización: October 15, 2016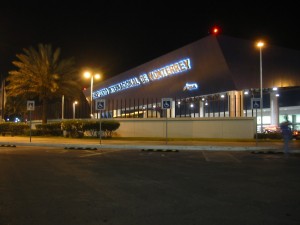 Flying to El Potrero Chico is usually a safer and easier option than driving or taking a bus. If the cost is not an issue, this is for you.
The main airport close to Potrero Chico is General Mariano Escobedo International Airport (MTY). It is located about 1 hour south east of Potrero Chico in the metropolis of Monterrey – the second largest and first richest city in Mexico. The airport's address is: Carretera Miguel Alemán Km. 24, Monterrey, Nuevo León, 66600, Mexico
Getting From The Airport to Potrero Chico
Once at the Monterrey airport there are a number of options for getting to Potrero Chico. There are several taxi companies, shuttle buses, and locals in Hidalgo who offer Potrero pickup services to choose from. The average price for these services are 400-500 pesos. The toll road from the airport to Potrero Chico costs 67 pesos (11/31/12).
Several options can be found here: Airpot Shuttles/Taxis
What To Say To Your Taxi Driver (Print)
English: I need to go to Potrero Chico Park in Hidalgo, Nuevo Leon, please. Take Highway 53 West to Abasolo-Hidalgo-Mina-Monclova.
Spanish: Necesito ir a Parque Potrero Chico en Hidalgo, Nuevo Leon, porfavor. Vaya hacia la careterra norte 85 para Lardeo. Despues coja hacia la carretera este 53 para Abasolo-Hidalgo-Mina-Monclova en el estado de Nuevo Leon.
Airport Location:

View Larger Map
Route From Airport: